Luton vicar James Ogley sacked for urging child sex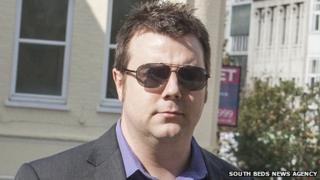 A vicar who admitted asking children to sexually assault other youngsters on an internet chat blog has been sacked by the Church of England.
The Rev James Ogley, 38, from Saint Francis Church in Carteret Road, Luton, was jailed for two years in October for publishing obscene material.
He has been removed from office and banned from being a Church of England priest for the rest of his life.
The Diocese of St Albans said it was the "maximum penalty".
'Terribly wrong'
The Bishop of St Albans, the Rt Rev Dr Alan Smith, said he had been "deeply shocked and saddened" to hear about Ogley's actions, but it had been important to follow the required legal process "to guarantee a safe, certain and unchallengeable result".
"Very soon after his sentencing, I was quite clear in my own mind that the appropriate penalty was prohibition from office for life," he said.
"Now that the legal process has come to its conclusion, I am able to make the penalty to be imposed known.
"I feel deep sorrow and shame that one of my priests should have done such terribly wrong things."
Ogley was arrested in January 2013 after police responded to reports someone had tried to contact children via the chat room Internet Relay Chat.
He was immediately suspended from his duties as a priest.
Chat logs showed the married father of two had asked those who appeared to be under the age of 16 to "commit child sex offences".
He pleaded guilty at Luton Crown Court to seven charges under the Obscene Publications Act 1959.
The bishop said his prayers were "with anyone harmed by him".