Watford Mothercare boss defrauded £20,000 to pay debts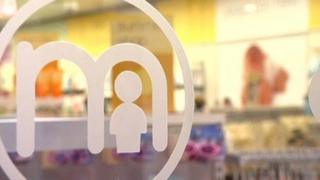 A customer services manager at a Mothercare store in Hertfordshire defrauded the company of more than £20,000 to pay off his own debts.
Sumier Shah, 38, of Westbury Road, Southgate, north London, who earned £24,000 a year, admitted fraud.
At St Albans Crown Court, Judge Martin Griffith sentenced Shah to 12 months' jail suspended for two years after he said he would repay the money.
He also faces two years of supervision and must do 250 hours of unpaid work.
After he was arrested and bailed in September 2012, the Watford store customer services manager went on the run to Liverpool where he accessed the shop's computer, the court heard.
Prosecutor Edward Hollingsworth said between January and September 2012 Shah had made 34 refund transactions to himself, totalling £20,156.
'Deeply embarrassed'
Shah was arrested again in Liverpool in October this year.
The court was told he had one conviction for aggravated vehicle-taking and having no insurance and no driving licence from 1997 when he took his father's car.
Ali Dewji, defending, said Shah had accumulated debts before working for Mothercare.
"He has no relevant convictions and has expressed his remorse. He is deeply embarrassed by his conduct."
Mr Dewji said Shah wanted to repay the money to Mothercare.
The judge said: "What you did was a gross breach of trust. You could have no complaint if you went back to prison.
"If you come back before me I will start the sentence at 12 months and it will go up from there."