Milton Keynes' Subhan Shafiq resigns over taxi rapist row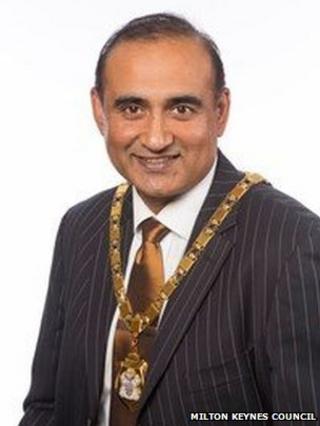 A councillor who personally vouched for a taxi driver who had convictions for rape and sexual assault has resigned.
Subhan Shafiq, Liberal Democrat at Milton Keynes Council, resigned as mayor in August after Nadeem Ahmed Kiani gained a taxi licence in 2011.
A council report released earlier showed Mr Shafiq gave Kiani a "glowing" reference, despite admitting he had made "mistakes in the past".
In a resignation letter, Mr Shafiq apologised for any distress caused.
The authority revealed in August that Kiani, who had been a local taxi driver for three years, had raped and sexually abused prostitutes in London in 1994. He was jailed for eight years.
'Solid member'
He had been vouched for by Mr Shafiq at a meeting in 2011.
The council report said Mr Shafiq, who had known Kiani since childhood, told councillors: "He was a solid member of the mosque, prays every day, he has a wife and children, he made mistakes in the past and wants to move forward."
He later denied any knowledge of Kiani's criminal convictions, but resigned as town mayor.
Kiani's licence was suspended a year later after Thames Valley Police raised concerns and listed further details of his convictions.
A second licensing committee lifted that suspension, allowing Kiani to continue as a private hire driver.
The chairman of that second committee Stuart Burke and deputy chairman Gladstone McKenzie also stepped down in August.
Afterwards it was discovered seven other drivers in the city also had criminal convictions.
The report concluded the decision to grant the rapist a licence was lawful, but not necessarily acceptable.
Recommendations include new training for councillors who grant licences, a regulatory sub-committee be formed to grant licences and drivers to take part in new DBS checks.
Mr Shafiq's resignation letter said: "I accept the content of the report and I wholeheartedly support the recommendations it makes. Importantly, I wish to publicly apologise for any distress my actions have caused.
"But the recent months have also put pressure on my family, including my young children, my close sincere friends and myself.
"It is for that reason that I am resigning as a councillor with immediate effect."