Stuart Docherty jailed over attack on Henry Huggins in Luton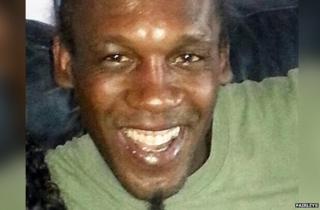 A man who stamped on the head of an unconscious 48-year-old after a row about a dog has been jailed for 12 years.
Henry Huggins from Luton has been in a coma since the attack on 8 August 2013.
Stuart Docherty, 40, was sentenced at Luton Crown Court. He admitted causing grievous bodily harm with intent at an earlier hearing.
Docherty's friend James Early, 40, was convicted of assault causing actual bodily harm.
Docherty, of Townsley, Luton, also pleaded guilty to the theft of Mr Huggins' ring and watch.
Early, 40, of Whipperley Ring, Luton, was cleared at a trial last month of causing grievous bodily harm with intent but convicted of assault causing actual bodily harm.
The court heard that Mr Huggins and Early, who were neighbours, had argued about Mr Huggins' dog, which could be "aggressive and troublesome".
During the row Mr Huggins was punched to the ground.
Docherty then arrived and stamped on Mr Huggins' head, the court heard.
Judge David Farrell QC said: "What you did was an appalling act of cowardice and violence. It was a heinous and grossly wicked act."
The judge told Docherty that he would have to serve an extended licence period, meaning he will stay under licence under 2031.
The extended sentence also means he must also serve two thirds of his sentence before he can be considered for parole.
Early was jailed for two and a half years.
Mr Huggins' family have collected about 1,000 selfies to make a "collage of love" for "when he wakes".