Burglar Jamie Peck jailed after DNA found on socks used as gloves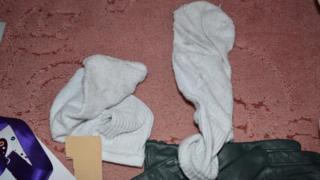 A burglar has been jailed after he was identified through a pair of his socks.
Jamie Peck, 36, of Winchester Road, Sandy in Bedfordshire, wore the socks on his hands when he broke into a house in Biggleswade.
But he left the the DNA-covered items behind when the owner's son arrived and had to jump out of a window.
Luton Crown Court heard Peck had 41 previous convictions going back to 1996. He was found guilty of burglary and jailed for four years.
Peck broke into the house while the owners were on holiday last May, but escaped when their son came round to check on the property.
He jumped out of a bedroom window on the first floor leaving the socks, which he had been using as gloves, on the floor.
A forensic examination uncovered his DNA and he was arrested two weeks later.
Prosecutor Neil Sandy said he had taken socks with him rather than gloves because he knew he would be able to give a more plausible explanation if police stopped him.
Peck had denied being involved with the break-in.
He said it was possible clothes had been stolen from where he was living in Sandy and the socks could then have ended up at the house.
Peck's previous convictions include burglary, driving matters, violence and shoplifting.
Judge Michael Kay said he had the "classic record" of someone who had committed offences to fund a drug habit.