Stevenage murder: John 'Boy' Ward accomplices jailed for helping him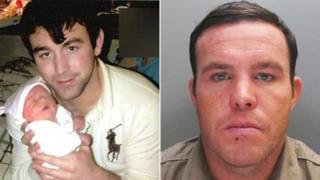 The brother and sister of a killer who went on the run after murdering his cousin's son have been jailed for assisting an offender.
John "Boy" Ward shot Thomas Ward, 21, near Stevenage, Hertfordshire in April last year in a family feud.
He was jailed for life at St Albans Crown Court last month.
His siblings Francis and Winifred were jailed for 18 and 15 months respectively. His wife Joeleen was given a 12 month suspended sentence.
The trial of John Ward, 33, of Clarkson Court, Hatfield, heard the killing was the latest part of a feud which had been running for more than 25 years.
In 1987 Thomas Ward's father, James, was held responsible by some members of the Ward family for a car crash that killed John's brother Micky.
'Cold-blooded execution'
James Ward subsequently shot another brother, 'Bimbo' Ward, in 1993 and was jailed for manslaughter.
Thomas Ward, who was born after the feud started, was shot by John Ward at the Dyes Lane travellers site and he then fled to Europe.
The trio sentenced for assisting him were convicted at an earlier hearing.
Francis Ward, 36, of Stable Way, Kensington in London, provided John Ward with a car and looked after his documents.
Winifred Ward, 47, of Cambridge Road, Hounslow in London, sent him money from his business account.
His wife, who was five months pregnant, joined her husband in Paris and they travelled around France and Spain before settling in Denmark.
Passing sentence, Judge Andrew Bright, QC, said: "John Ward was involved in the cold-blooded execution of a young man as part of an on-going family feud.
"The assistance you provided went some way to helping John Ward remain outside jurisdiction for nine months."
Joeleen Ward's prison sentence was suspended for two years because she had served the equivalent of 11 months in jail while on remand and on a curfew.