Queue-jump driver 'endangered children' in Luton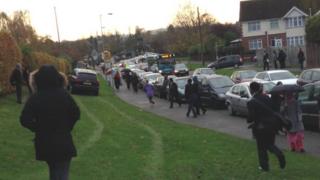 A woman says she was assaulted when she tried to stop a car driving along a grass verge, putting dozens of schoolchildren in danger.
Antonella Bamford said she was slapped in the face by a passenger in an Audi Q7, which left the road near the Icknield primary and high schools in Luton to avoid a traffic jam.
"It was horrific," Mrs Bamford said. "There were children left, right and centre, running out of the way."
Police are investigating.
'Ball through skittles'
Mrs Bamford, whose son attends the high school, said more than 30 children were put in danger by the car, on Birdsfoot Lane at about 15:30 GMT on Monday.
"I thought the car was going to go through the children like a bowling ball through skittles," she said, adding that she instinctively ran towards the car to try to make it stop.
"I jumped forward and tapped on the car, saying 'children, children, stop what you're doing - you're going to knock them over'."
"I was threatened. The passenger was absolutely erratic, his eyes were wide open, he was spitting as he was talking.
"He hit me around the face."
Mrs Bamford said the vehicle was travelling at up to 20mph as it went along the grass verge. She said the car's driver and passenger were "Asian", and looked to be between 18 and 22 years old.
The vehicle rejoined the road about 300m later.
"I couldn't sleep that night, just thinking what could have happened."
Police have asked for any witnesses to come forward.