Amersham firefighters free man's hand from metal teapot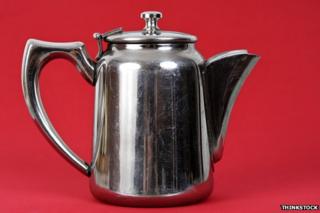 A man whose hand got stuck in a teapot had to be helped by firefighters to get it out.
The man called Amersham Station in Buckinghamshire at 18:45 GMT on Saturday.
His right hand became stuck in the metal teapot while he was washing it, a Buckinghamshire Fire and Rescue Service spokesman said.
Station officers used a tin snip tool to get the man's hand out within a few minutes.
The man was not injured in the incident.
A spokesman added the mishap "gave the public an insight into the very wide range of calls a modern-day fire and rescue service receives."
He said a few years ago, the same station had to remove a snake that was caught in someone's bangle.