Bletchley Park marks Turing Bombe with stamp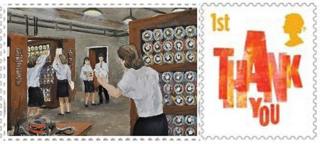 Two new limited edition postage stamps have been issued in celebration of a World War Two codebreaking machine following a vote by engineers.
The Bombe, which was used to crack the Enigma code, was developed by a team at Bletchley Park in Buckinghamshire.
One stamp design shows the machine in action. The other depicts Alan Turing, the mathematician behind the device.
The stamps are being issued from Bletchley Park Post Office on Saturday.
Terry Mitchell, from Bletchley Park, said: "The Royal Mail allows us as specialist producers to issue limited edition designs.
"They can be used as ordinary postage stamps, but few are used like this as people like to keep them as whole sheets of 20 for collection purposes."
The codebreaking device beat the supersonic aeroplane Concorde into second place in the Institution of Mechanical Engineers (IME) vote last month to find what they deemed the top engineering feat.
The limited edition stamps feature specially commissioned artwork by Liverpool-based artist Steve Williams and Daniel J Rogers from Milton Keynes.
"Although people tend to use stamps a lot less these days, they still hold a fascination and for many are highly collectable," said Mr Mitchell.
Bletchley Park was the wartime home of the Government Code and Cypher School which broke the codes generated by the Enigma machine, a device used by the Germans to send encrypted messages.
John Wood, from the IME, said: "The Bombes... played a crucial role in the Allied success in the war.
"Estimates suggest that they could have helped cut the war by as much as two years - saving countless lives."