Katrina-Kay Hayward partially blinded in Halloween attack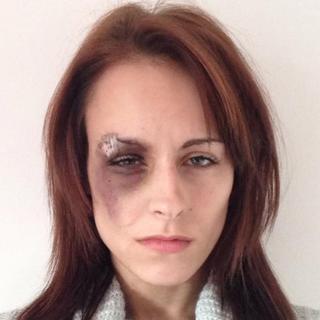 A woman partially blinded in an attack after a Halloween celebration says the experience has "robbed her of any confidence".
Katrina-Kay Hayward, 22, a part-time model from Bedford, was attacked in the town in the early hours of Saturday.
She said she wanted to show her injuries to show how devastating a random attack, which has left her without the sight in one eye, can be.
Bedfordshire Police confirmed they were investigating the alleged assault.
Miss Hayward said the attack happened as she walked back to her flat with two friends after celebrating Halloween at a nightclub.
They were walking around a group of four people, two men and two women, when she said she was "punched so hard it sent me flying".
'Nasty and unprovoked'
Miss Hayward said she did not know her attacker and had not met the group before.
Her male friend was also punched and kicked but sustained only minor injuries.
Miss Hayward was left with a deep gash and three fractures to her right eye socket.
She has not yet regained the sight in that eye.
Doctors are unable to tell her if her sight will return until the swelling in her face subsides, she said.
Miss Hayward described the attack as "nasty and unprovoked" and said it had left her "too scared to answer the door". Instead she stays indoors "curled up under the duvet".
Modelling was a part-time "hobby", which had boosted her confidence after years of being bullied at school, she added.
"It helped me come out of my shell and find my confidence, but now it's all been knocked out again.
"My self-esteem and confidence were taken away from me in one night," Miss Hayward said.
"If the people who did this are reading this piece, I just want them to know they have ruined my life and I want anyone with any bit of information to please come forward."