Bedford Hospital 'could lose A&E' if referrals fall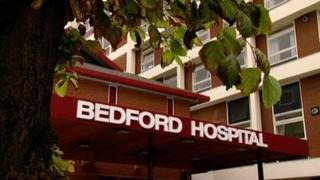 Bedford Hospital may lose some accident and emergency and trauma services if it is unable to attract more patients with back or limb problems.
These musculoskeletal (MSK) services saw a 35% drop in patients after a private contract began in April.
The trust warned if GPs failed to refer patients it would lose income and struggle to keep some departments open.
The Clinical Commissioning Group (CCG) that brought in contractors to give patients choice declined to comment.
The private MSK contract covers orthopaedics and physiotherapy.
GPs must decide whether to refer patients to the hospital or to another provider, the trust said.
Bedford Hospital Trust said every 10% reduction in referral numbers means it lost £700,000.
'Significant impact'
Chief executive Stephen Conroy said it was an "unintended consequence" of the contract.
"If the rate of referrals to the private sector continue at that level it would mean we would have a financial problem running the trauma and orthopaedic service and, at some point, it would become less viable," he said.
"Without the guarantee of income from the commissioners we would need to consider whether we could continue to provide that service.
"If you lose trauma you can't provide a full A&E service, you wouldn't need to lose it completely but it would have a significant impact."
Paul Scoins, political reporter, BBC Three Counties Radio
The hospital has described this situation as being like a big game of Jenga, where if you pull out one thing at the bottom everything else comes crashing down.
If you cannot do trauma, such as breaks and sprains, you cannot do A&E and if you cannot do that you cannot do paediatrics and therefore maternity.
Since January, this has been at the very top of the hospital's list of things it considers to be the biggest threat to its existence.
The Bedfordshire CCG has said the MSK contract is about providing patients with more choice and the hospital can earn the services by pitching for patients.
Patients will still get the service, it just might not be at Bedford Hospital.
Bedford and Milton Keynes hospitals are currently being reviewed by Monitor and the NHS amid a rising and ageing population in the area.
Both hospitals face a combined £73m deficit by 2023-24.