Beaconsfield remembers WW1 hero Francis Grenfell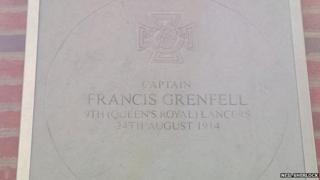 A compromise between two towns has seen a second posthumous honour unveiled for a World War One hero.
A duplicate centenary slab commemorating Victoria Cross (VC) recipient Francis Grenfell has been laid in Beaconsfield, Buckinghamshire, where he lived from the age of seven.
The original stone was laid in August, in his birthplace of Guildford, Surrey.
Captain Grenfell was awarded his VC within the first month of the war.
The birth places of all VC medal recipients are getting free stones from the Department of Communities and Local Government (DCLG) to mark the World War One centenary.
Guildford Borough Council was approached to ask if it would give up its right to the stone but wanted to keep it.
Beaconsfield Town Council spent £540 on a duplicate, which has been laid near the town's war memorial in Windsor End.
'Strong association'
The ceremony, which took place before the Remembrance Sunday commemorations, was attended by about 50 members of the Grenfell family and two members of the soldier's 9th/12th Lancers Prince of Wales's Regiment, to whom he left his medals.
Mayor Steve Jones said he was "delighted" to have one of the stones as the Grenfell family had such a strong association with Beaconsfield.
"The town felt although he was not born here, he spent much of his growing up years here," he said.
"We felt he had a greater connection to Beaconsfield and wanted to recognise his name on behalf of the town.
"Luckily this was recognised by those who make the decisions [about duplicate stones]."
The Victoria Cross is the highest military decoration awarded for gallantry and valour in the face of the enemy.
Capt Grenfell was the first officer to receive the honour during World War One. It was awarded for his actions in helping to save guns during the Action of Elouges at Audregnies, Belgium, on 24 August 1914.