Firefighters' strike: Ricky Matthews' walkout 'illegal'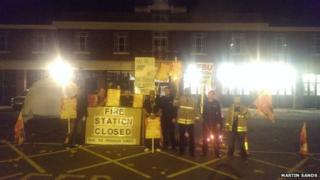 A firefighter has been sacked after illegally taking part in the ongoing national strike, the fire service says.
The Fire Brigades' Union (FBU) has pledged to fight the dismissal of Ricky Matthews in Buckinghamshire.
Mr Matthews did not work a shift during the national strike, which ends at 18:00 GMT on Tuesday.
The fire service said it acted because the FBU had made an administrative error when giving the service the required seven days strike notice.
FBU bosses have maintained however it believed the strike was legal.
'Dictator-like'
Matt Wrack, FBU general secretary, said: "The Chief Fire Officer (in Buckinghamshire) and his team have claimed that our call to strike was not lawful. This is utter rubbish. Employers are able to challenge unions in court. We were awaiting such a challenge, have taken legal advice, and had a QC ready to defend our case.
"This is outrageous treatment of a long-standing firefighter and an outrageous attack on the right to organise in a trade union. The FBU is now planning our response on a legal, political and industrial level. The FBU will stand by our victimised member."
A fire service spokesman said that when giving notice of a strike action a union has to provide a list of union members who are being called on to strike, and the Buckinghamshire FBU failed to do this.
The strike in Buckinghamshire was therefore deemed illegal, he said. Mr Matthews was the only member of staff in the county not to turn up for work.
After facing criticism on social networks, Chief Fire Officer Mark Jones, of Buckinghamshire Fire and Rescue Service, said in a statement: "Our actions are being called dictator-like, but all we did was follow the law.
"One staff member chose to take illegal strike action and was subsequently dismissed for failing to attend work. All other members of staff have been turning up for work as normal."