Watford allotment legal case: High Court quashes government decision to build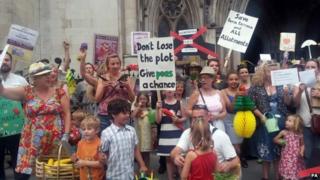 A government-approved council plan to build on 118-year-old allotment plots has been quashed by the High Court.
A judicial review found Watford Borough Council had not kept the communities secretary updated on the number of homes included in the development.
The Save Farm Terrace Allotment group which challenged Eric Pickles ruling called the decision "monumental".
The council said it would appeal as the ruling was on a "very narrow" technicality.
Watford Council said plans for 750 homes and commercial buildings in a proposed £250m development on the 30-hectare site behind Watford Football Club would not be viable if it could not build on the 128 plots.
The allotment group won an appeal against the council's first plan last August, when Mr Pickles reversed his original decision to grant permission to close the allotments.
But this was overturned in December, when he accepted a revised scheme.
'Maverick decision'
Mr Justice Ouseley said Mr Pickles had not been kept updated between September and December 2013 and ruled the decision to deregulate the site be quashed.
But the council said the decision to increase the number of homes from 600 to 750 was made in January.
Watford's elected Liberal Democrat mayor Dorothy Thornhill said the court had made a "maverick decision" and the council would appeal.
"We couldn't possibly have told him about a decision that hadn't been made," she said.
"But this is the second best result because [the judge] has absolutely demolished [the protesters] other arguments and we are left with a small technicality which we believe is flawed.
"I feel really quite sad that 30 people can actually hold the town to ransom in this way."
'Monumental'
A spokesman for the campaign group said it had been "fully vindicated" in its campaign.
"Because of this monumental decision, we now hope that central government will take extra care when deciding on future applications to close allotment sites," a statement said.
Under the Allotments Act 1925, councils require consent from the communities secretary to develop allotment land.
The government said it understood the scheme would deliver new NHS facilities and provide replacement allotments and it "actively supports allotments and food growing".
Stephen Williams, communities minister at the Department for Communities and Local Government, said: "The department took the decision [to approve] based on the evidence provided by the council at the time.
"It is now up to the council whether they wish to put forward the application for reconsideration."