Joseph Kent killing: Samir Bostan found not guilty of manslaughter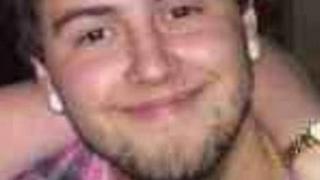 A man has been cleared of killing a 24-year-old who died after a late-night argument in a queue at a takeaway.
Joseph Kent died after being punched at a KFC outlet the Xscape complex in Milton Keynes on 13 January 2013.
Samir Bostan, 27, of Clarkes Spring, Tring in Hertfordshire, was found not guilty of manslaughter after a trial at Luton Crown Court.
He was given a 26-week jail sentence for assaulting the dead man's friend.
The court heard an argument had broken out in the early hours of the morning between two groups, one of which included Mr Kent, his wife Emma and a friend Andrew Curzon-Berners.
The trial heard the Mr Kent had been celebrating his wife's birthday at Xscape and the fight started with the defendant's brother Tariq Bostan hitting Mr Curzon-Berners.
Unconscious
Samir Bostan, who had been living in Milton Keynes, told the court: "I did everything possible not to fight. I didn't want to hurt him [Mr Kent] ... but I just felt I had to hit him."
Mr Kent, who was a tattoo artist in Northampton, collapsed unconscious.
He was pronounced brain dead two days later and his life support machine was turned-off.
At a trial earlier this year Samir Bostan was found guilty of assaulting Mr Curzon-Berners.
He walked free from court because he had already served his sentence for assault while in custody on remand.
His brother Tariq Bostan, 28, from Luton, earlier pleaded guilty to two counts of actual bodily harm in relation to the incident and he is due to be sentenced at a later date.
The judge, His Honour Judge Michael Kay QC, said: "Judges sit here week after week hearing tales of such events.
"It's virtually always late at night after pubs and clubs have closed and, over nothing at all, violence breaks out."