Bedford and Milton Keynes hospitals 'keep A&E and maternity services'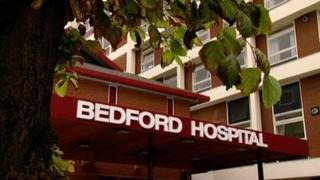 A report into the future of two hospitals says both are likely to retain some form of emergency and maternity services, but "significant concerns" about paying for them remain.
Bedford and Milton Keynes hospitals are currently being reviewed amid a rising and ageing population in the area.
A progress report says both sites would also be likely to keep paediatric and inpatient services.
But both hospitals face a combined £73m deficit by 2023-24.
The "innovative" study, said to be the first of its kind by health regulator Monitor, aims to assess the current problems both hospitals face and look at how future challenges can be tackled.
The review involves both hospitals because of similarities in population growth, location and financial constraints.
It is being carried out by Monitor, the NHS Trust Development Authority, NHS England and the clinical commissioning groups for Milton Keynes and Bedfordshire.
Previous updates said both hospitals could lose their A&E services, with Bedford also losing its maternity ward.
But the two remaining options being proposed by the experts both contain some form of emergency and maternity provision for the hospitals. However, the scale of what will be offered is not yet known.
Problems encountered recently include Bedford Hospital being forced to suspend children's A&E, planned surgery and overnight observation because of staff shortage concerns.
The report states: "These challenges are both clinical and financial.
"They include meeting the needs of a growing and ageing population, more of whom are living with long term conditions such as diabetes and heart disease, and addressing inconsistent quality of care, unequal access to care and challenges in recruiting and retaining a clinical workforce."
Once more finalised plans have been put in place, they will be put out to public consultation.
No final report or decisions are likely to take place before next year's general election, a review spokeswoman said.