Four Hertfordshire libraries to move to fire stations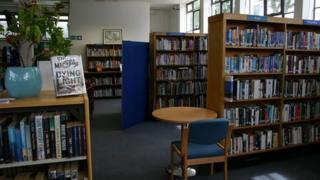 People in villages in Hertfordshire will be able to borrow books from their local fire station in a plan to relocate some libraries.
Hertfordshire County Council has received £700,000 from the government to combine up to four part-time village fire stations with libraries.
Councillor Richard Thake said the scheme would "help to guarantee the long-term future" of the services.
A decision on which will relocate will be taken at the end of the year.
There are 13 retained fire stations in Hertfordshire. They are staffed by volunteer firefighters who are paged when emergency calls are received.
Hertfordshire County Council runs 46 libraries and said it has no plans to close any of its branches.
Cabinet member for libraries Frances Button said: "Everyone knows that budgets are under pressure, but by sharing sites we can keep our running costs down without sacrificing services."
A survey on how residents use libraries, and what sort of services they would like, will be completed on 7 December.
The results will be used to decide which village libraries will be relocated to fire stations.
The money, which comes from the Department for Communities and Local Government, will be spent on building suitable accommodation for the libraries.
Work is expected to start on the project in 2015.