Nether Winchendon's 'rare' table tombs to be restored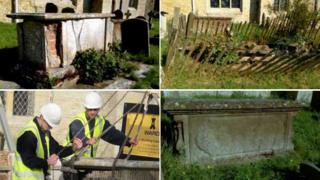 Work has begun on restoring three "important" 18th Century table tombs at a churchyard in Buckinghamshire.
They belonged to the Read family, who were farmers at Nether Winchendon, near Aylesbury.
Project manager Tim Reading said they dated back to 1720 and were "rare, very early examples of table tombs built by the emerging middle classes".
The £18,900 restoration cost has been met by the Heritage Lottery Fund and village fundraisers.
The tombs, which are about 6ft (1.8m) by 4ft (1.2m), had fallen into disrepair, and one of them had collapsed completely. Beneath each tomb is a vault, where the family members were entombed.
'Lost forever'
Mr Reading said: "The condition of the tombs has been seriously deteriorating for a number of years, due to subsidence, weather damage and the invasive growth of roots and weeds.
"We are conscious that if we didn't act now, these important heritage items could be lost forever. The aim is to dig into the vaults, clean them up, re-entomb the remains and then restore the table tombs on top."
The first tomb, which is at St Nicholas' Church, was built for Cozen Read in 1720. His wife and at least six of their 20 children were believed to be buried in the vault beneath it.
The second tomb contains Cozen's son William Read, his wife, their daughter and her husband. A third contains Cozen's son Michael and his wife Martha.
Christine Read, a descendant of the family, who gave her approval for the restoration said she was "so very pleased" it was happening.
Ms Read, who lives in Cornwall, had previously visited the tombs and tried to repair them herself.
"I was concerned that the parts of the tombs would be broken up and discarded," she said.
The Heritage Lottery Fund said the project involved "local residents and local organisations working together to help to preserve important heritage items".
The restoration work is being undertaken by a local conservation building firm, and is due to be completed early next year with a service of blessing to follow.