David Clapson's family welcomes benefit inquiry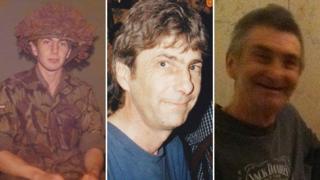 The family of a former soldier who died after his benefits were cut say they are "overwhelmed" after MPs decided to look at welfare sanctions.
Diabetes sufferer David Clapson, 59, from Hertfordshire, died from lack of insulin, 18 days after his Jobseeker's Allowance was suspended in July.
His sister, Gill Thompson, said more than 211,000 people signed her petition calling for an inquiry.
A Parliamentary select committee will look at the issue next year.
On 2 July, Mr Clapson's £71.70 a week allowance was stopped for a month, after he missed an appointment with the government's Work Programme in May.
Ms Thompson said he was found dead in his flat in Stevenage on 20 July, with £3.44 in his bank account.
She said his electricity card had no credit, meaning the fridge where his insulin should have been kept chilled, was not working.
'Inappropriate' sanctions
The Department for Work and Pensions (DWP) said Mr Clapson "did not appeal or ask for a reconsideration of the sanction or apply for a hardship payment".
A DWP spokesperson said: "It's only right that people claiming benefits should do everything they can to find work if they are able.
"Sanctions are only used as a last resort for a tiny minority who don't follow the rules and hardship payments are available if people need them".
Ms Thompson, who lives in London, said she started the petition, asking for an independent inquiry into the benefit sanctions regime as "vulnerable people won't speak up".
Debbie Abrahams, Labour MP for Oldham East and Saddleworth, had been calling on the government to hold an inquiry into "inappropriate use" of benefit sanctions since last November.
The government refused, but she has now persuaded the Work and Pensions Select Committee, of which she is a member, to look at the issue.
A spokesman at her office said Mr Clapson's story had brought the effect of benefit sanctions into the public arena.
Ms Thompson said the announcement there would be an inquiry was "overwhelming".
"I am so glad I [started the petition] now. I hope through this investigation lessons will be learnt," she said.