Stevenage murder: John 'Boy' Ward jailed for life for Thomas Ward killing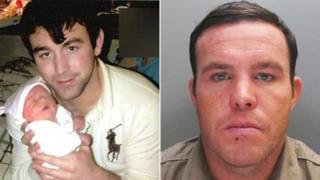 A man has been jailed for life for murdering his cousin's son as part of a 30-year feud between two families.
John "Boy" Ward shot Thomas Ward, 21, at a caravan site in Stevenage, Hertfordshire, just days after the victim's daughter was born last year.
Ward, 33, of Clarkson Court, Hatfield, was jailed for a minimum of 32 years at St Albans Crown Court and described as "ruthless" and "violent".
The trial heard he planned to "get" his victim when he was at his "happiest".
The court heard the killer had phoned his victim in 2011 and told him: "It's me, your enemy.
"I'm going to wait until you are at your happiest - then I'm going to get you."
The jury was told the feud began when the dead man's father, James Ward, was held responsible by some family members for the death of a cousin, Micky Ward, in a car crash in 1987.
Six years later James Ward shot dead Micky's brother, James Ward, nicknamed Bimbo, and was jailed for manslaughter.
'Targeted execution'
The defendant, John "Boy" Ward, was the younger brother of the two dead men.
The court heard that on 23 April 2013 a window of Thomas' caravan was smashed while the couple and their daughter were asleep and three masked men confronted him, one firing a shotgun.
The defendant fled to Denmark after the killing, telling the jury he panicked because he heard of a £100,000 contract to kill him.
Passing sentence, Judge Andrew Bright, QC, said: "Thomas Ward was the victim of a planned and targeted execution in which you played the leading role."
Det Ch Insp Sharn Basra, from the Bedfordshire, Cambridgeshire and Hertfordshire Major Crime Unit, said: "John 'Boy' Ward is an extremely ruthless, violent and dangerous man.
"Whilst we cannot be clear who pulled the trigger, we know John 'Boy' instigated, planned and ensured Thomas was killed that night and I am pleased he has now been given a substantial prison term.
"Investigations to identify and trace others we believe were involved in the planning and facilitation of the killing are ongoing."
Thomas Ward's family said in a statement: "The man behind this set out to hurt us in the most awful way and he has succeeded. We now pray for peace."
The defendant's wife Joeleen Ward, 22, his brother Francis, 36, and his sister Winifred, 47, are to be sentenced on 11 November after being convicted of assisting an offender.