London taxi driver jailed for Hitchin firefighter's A1 death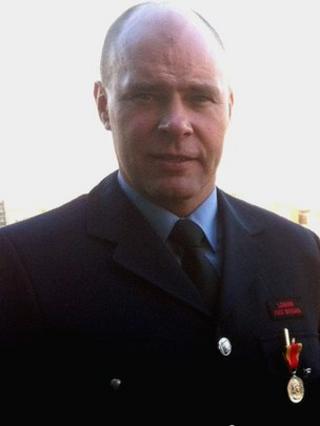 A taxi driver who caused the death of a firefighter and ex-Olympic bobsledder from Hertfordshire has been jailed.
London firefighter Rob Pope, 44, from Hitchin, died when his motorbike smashed into the stationary taxi on the A1M at Hatfield in March 2013.
Mohamoud Amin, 38, of Park Royal, London, denied causing death by dangerous driving after stopping in the outside lane to examine damage.
A jury found him guilty and Amin was jailed for three-and-a-half years.
St Albans Crown Court heard the private hire driver had stopped his taxi on the southbound carriageway near the Hatfield tunnel when he thought a stone had smashed the front passenger window of his car.
He said he was in a state of shock, stopped the vehicle and put on his hazard lights.
But Mr Pope, who was travelling to work at about 08:30 GMT on his Yamaha motorcycle, smashed into the back at about 60mph (95 km/h) and died at the scene.
'Significant hazard'
In court, Amin, who had no previous convictions and no points on his licence, said traffic was heavy in the lane to his left, and he believed he had pulled over closer to the central barrier.
However, Judge Stephen Gullick told him "it would have been apparent to you... you were a considerable distance from the barrier".
"You created a significant hazard for oncoming traffic. Stopping where you did amounted to a seriously dangerous manoeuvre.
"You singularly and spectacularly failed even to attempt to reduce the extent to which your vehicle obstructed the outside lane," he said.
Amin's defence barrister, Ross Cohen, said: "That day was the worst day of his life. He has wanted to speak to Mrs Pope to express his profound apology and sorrow for what happened on that fateful morning."
Mr Pope, a father of one, was a member of the Olympic Bobsleigh Team at the 1994 Winter Olympics at Lillehammer in Norway.
At the time of his death, his wife Nicky said: "Rob was a joker and always saw the amusing side to life. He doted on our little boy and we will never forget him."
Amin was jailed and also banned from driving for four years.