Heroin worth £37m revealed in imported car X-ray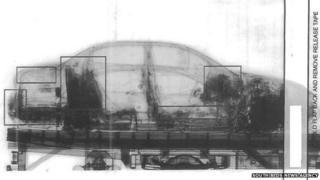 A car's hidden stash of heroin - worth £37m - was revealed when the vehicle was X-rayed, a court has heard.
The drugs were hidden all over the X-type Jaguar which was imported into Felixstowe in December 2013, Luton Crown Court was told.
Noman Qureshi, 32, and Israr Khan, 35, were found guilty of trying to supply Class A drugs. A third man, Mohammed Safder, was acquitted.
Qureshi was jailed for 21 years and Khan for 18 years.
During the trial, the jury heard documents had been prepared by a man in Karachi to get the car passed through customs, saying the vehicle was due for repairs.
Prosecutor Gordon Aspden said the vehicle, which was imported on a container ship from Pakistan, had no ignition, no electrics and could not be driven, but was "rammed" with 316 packets of heroin.
Qureshi, of St Ethelbert Avenue, Luton, and Khan of Bracken Hill Mews, Bradford, were arrested when they went to pick up the Jaguar in east London.
Police took the car to Harwich, where it was scanned with X-ray equipment and examined, the jury was told.
The 316 packets of drugs were found, weighing a total of 230kg (507lb).
Mr Aspden said the strength of the hidden heroin was "extraordinarily high at 79%".
"The Jaguar was rammed with drugs - no doubt from the fields of Afghanistan.
"This was high-level crime. The drugs were packaged in different-coloured bags for different customers - yellow, orange, blue, red and green," he told the court.
During sentencing, Judge Barbara Mensah told Qureshi: "Dealing in heroin is odious, pernicious and evil.
"This was a very sophisticated operation and it's clear every cog in the wheel of that operation was important," she said.