Bedfordshire cells and staff 'barely adequate', report says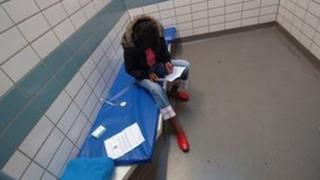 Police custody cells in Bedfordshire have been criticised after a joint inspection by HM Inspectorates of Prisons and Constabulary.
In a report in 2010, 26 recommendations were made to improve the force's detention and holding cells.
But in April inspectors found only 11 had been addressed, with no start made on the remaining 15 recommendations.
The Bedfordshire force said a new head of custody had been appointed and a new custody suite had opened.
Chief Inspector of Prisons Nick Hardwick and Dru Sharpling, HM Inspector of Constabulary, reported some good individual care for detainees.
However, "the lack of improvement in police custody suites was disappointing".
Staffing levels were barely adequate, with custody staff relying on untrained support people, the report said.
All staff reported difficulties with vulnerable adults and these detainees could be held in custody for longer than necessary, inspectors concluded.
Religious and ethnic minority detainees said staff were respectful and detention periods were kept to a minimum.
The report said: "We recognised new initiatives are making progress.
"But it was disappointing it has taken over three years and a new senior leadership team to acknowledge the lack of strategic oversight."
Chief Constable Collette Paul said the criticised Greyfriars custody suite was shut immediately after the inspection.
"Within five months we opened a new bespoke custody facility at our headquarters in Kempston."