Leon Briggs's family 'devastated' by inquest delay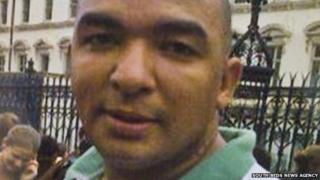 The family of a man who died in police custody are "disgusted and devastated" by the delay of an inquest into his death, his best friend has said.
Leon Briggs, 39, from Luton, died in hospital in November after he was detained by Bedfordshire Police.
An Independent Police Complaints Commission (IPCC) probe means an inquest has been suspended until March.
Cyril Mitchell, Mr Briggs's friend, said: "The pain of having no closure is devastating."
Father-of-two Mr Briggs, of Ashburnham Road, was detained under the Mental Health Act on 4 November and became ill at Luton police station.
Seven members of Bedfordshire police staff, including five police officers, have been suspended while the IPCC investigates.
The IPCC told a hearing at Hatfield Coroners Court that it was yet to complete its final report, meaning the inquest had to be suspended.
Deputy senior investigator Emma Maloney said: "There is reasonable suspicion criminal offences may have been committed by those under investigation."
The coroner said investigations had to be "thorough otherwise justice for everybody involved will not be done".