Turing's bombe pips Concorde in mechanical engineers' poll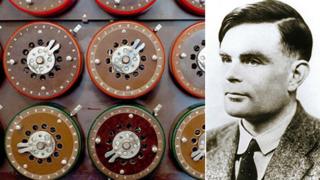 A codebreaking machine credited with saving millions of lives has topped a list of engineering feats.
Members of the Institution of Mechanical Engineers voted the bombe machine as their favourite recipient of the Engineering Heritage Award, which has run since 1984.
Alan Turing oversaw the development of the machine, used to crack the Enigma, at Bletchley Park during World War Two.
Concorde came second in the vote, which was open to 105,000 members.
John Wood, chairman of the Institution of Mechanical Engineers' Heritage Committee, said the 210 bombe machines helped decode up to 5,000 messages a day during the war.
"Estimates suggest that they could have helped cut the war by as much as two years, saving countless lives," he said.
The bombe machine topped the list with 19% of the vote, closely followed by Concorde with 17%.
The supersonic plane was a technological marvel when it was introduced in the 1960s.
It went on to reach speeds of 1,300mph (2,080kph), meaning it could go from London to New York in three hours and 20 minutes.
In April 2003 British Airways and Air France announced the plane would be retired due to falling passenger revenue and rising maintenance costs.
The Rolls Royce RB211 engine received 11% of the vote.
It was developed in the late 1960s but cost miscalculations led to the company going bust in 1971.
In 1938 the steam locomotive Mallard hit a top speed of 126 mph (203km/h), breaking the world speed record for steam traction.
It was designed by Sir Nigel Gresley and built in Doncaster in 1938. By the time it retired on 25 April 1963, it had covered almost 1.5 million miles (2.4 million km).
Mallard received 10% of the votes.
In fifth place, with 10% of the votes, was the Crossness Engine House, and the James Watt rotative beam engine.
The Institution of Mechanical Engineers said the engine, along with the pumps, were a key part of Sir Joseph Bazalgette's sewage system that rid London of cholera and typhoid.