'New' keep clear signs warn drivers of defunct Radlett fire station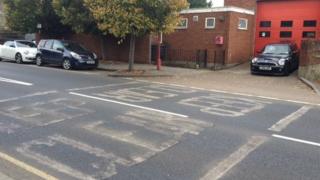 Signs warning motorists to keep clear of fire engines were mistakenly painted in front of a fire station - eight years after it closed.
Ringway, which works for Hertfordshire County Council, renewed the Keep Clear signs outside Radlett fire station, which was shut in 2006.
A spokesman said: "The crew did not realise the fire station was no longer in operation."
The mistake was made during work to "refresh" road markings in the town.
Radlett fire station was closed as part of a series of cuts.
The signs had faded since the closure until the repainting programme took place.
Divisional manager Kevin Carrol said once the closure "came to light", the firm agreed to "remove the road markings permanently to prevent a similar mistake being made in future".
"We can only apologise for any inconvenience caused and reassure residents that we are covering the cost of both the initial marking and removal," he said.
Some work to remove the signs has been done but further work is due to be completed next week.
"There may still be a faint trace of the markings, but this will fade over time," Mr Carrol said.