Grant Shapps MP says A&E closure at Welwyn's QEII hospital is a 'betrayal'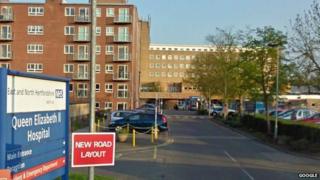 The closure of a hospital's accident and emergency service is a "betrayal", the Conservative party chairman has claimed.
Welwyn Hatfield MP Grant Shapps said hospital bosses promised A&E services would stay at the Queen Elizabeth II Hospital (QEII) in Welwyn Garden City.
But the department is being replaced with an Urgent Care Centre (UCC) from Wednesday.
Hospital managers said the move was based on getting the best for patients.
The decision to close many services at the QEII and provide all acute services for the area at the Lister Hospital in Stevenage, 14 miles away, was made after a 2007 consultation.
They could also travel 15 miles to the Princess Alexandra Hospital in Harlow or 17 miles to Watford General Hospital.
Mr Shapps said managers promised to keep a "functioning local A&E" at the QEII.
"Health bosses signed up to this in a seven point agreement in 2010, they've now seen fit to u-turn and close the A&E," he said.
"Sadly this isn't the only betrayal of local people."
Residents have "been lied to" about which services would be provided at the new £30m hospital on the QEII site, he said.
The East and North Hertfordshire Clinical Commissioning Group (ENHCCG) said it had decided to call the facility an "urgent care centre" because "local A&E... could be misleading".
It said its decisions were based on getting the "best health outcomes" for patients "with the funding available".
The 24-hour UCC will treat minor injuries and illnesses in adults and children which are the "vast majority" of patients who currently attend the QEII's A&E.
Dr Hari Pathmanathan, from the CCG, said that evidence showed survival rates are higher if patients with life-threatening conditions are "treated by doctors who treat lots of critically ill patients every day, rather than just one or two a week."