Luton and Dunstable busway 'embellishment' claims to be scrutinised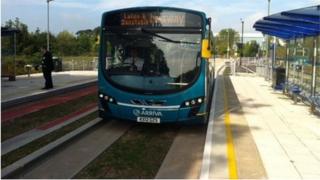 Claims a council "embellished" predicted passenger numbers for a busway are to be scrutinised by the National Audit Office (NAO).
Dave Taylor, Labour councillor at Luton Borough Council, made the remarks about the Luton and Dunstable busway.
Figures show passenger numbers are half what was predicted.
Margaret Hodge, Labour MP and chairwoman of the Public Accounts Committee, said she asked the NAO to study the claim.
The £91m busway opened in September 2013 and was paid for by the Labour-run council, the government and Central Bedfordshire Council.
It was claimed 3.4 million passengers would use the busway annually, but only 1.3 million used it in its first year.
Mr Taylor, portfolio holder for environment who now has responsibility for the busway, said of the 2008 forecast: "When you make the business case to the government you are not going to understate the case.
"You don't have a crystal ball - you embellish, pump up the figures."
But the council has denied the claims, with a spokesman saying the figures in the original business case were "an accurate projection of what was thought most likely to happen, ratified by the Department for Transport's own economists, and not embellished or manipulated in any way".
A spokeswoman for Ms Hodge said: "Margaret has asked the National Audit Office to look into this and come back to her."
Despite passenger numbers falling short, Mr Taylor said the busway had still been a success, saying 1.3 million was a "big number in anyone's money".