Bedfordshire PCC: 'Not my role' to watch police programme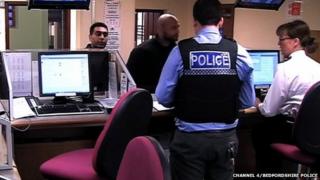 A decision by Bedfordshire's crime commissioner not to watch advance episodes of a documentary about his own force is "surprising", a police federation chief says.
The force is the subject of Channel 4's 24 Hours in Police Custody, a fly-on-the-wall programme that starts later.
PCC Olly Martins said seeing it beforehand "wasn't appropriate" because it was "the chief constable's job".
Police federation chair Jim Mallen said his decision "raised eyebrows".
Officers were filmed in their daily work at Luton Police Station, for two months earlier this year.
'Back street driver'
Mr Martins said he had "some idea" of what will be shown in the 20-part series because Chief Constable Collette Paul had seen some of the episodes and briefed him.
"I set the strategic priorities, but the day-to-day responsibility for what the police does is a matter for the chief constable... I'm like a back street driver," he said.
"There is a very hard divide that is set out in the legislation about the difference between my strategic role and the chief constable's.
"I don't get down in the detail."
However, Bedfordshire police federation chair Jim Mallen, said Mr Martins' decision not to ask for advance viewing copies "does come as a surprise given the role he performs".
"Given he is the conduit between the public and the force and it's a fly-on-the-wall series you would think he would be interested," he said.
"I don't know if it was an issue of time or the inclination not to watch but it certainly raises the eyebrows because that is what he is elected to do."
Mr Martins did not say if he would be watching the broadcast on Monday but explained he had "set it up on Sky Plus".