Luton sex industry crackdown sees offences rise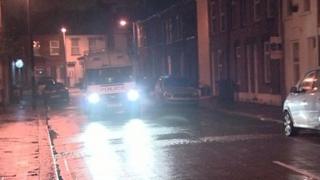 Sex offences have increased since the introduction of a town's crackdown on prostitution, police have said.
Reported offences rose by up to 57% in parts of Luton since Operation Turtle began in July last year.
Police said the public were "more confident" about reporting problems but residents said there was still "no deterrent" and more action was needed.
The five-year strategy aims to clear sex workers from Luton's streets by 2018, with kerb crawlers targeted.
Dispersal orders are also being used to force people suspected of "anti-social behaviour" to leave the area.
At a meeting with residents on Thursday, police said robbery, burglary and vehicle crime figures had fallen year on year.
'Outside my door'
The force would not disclose actual figures but officers revealed sexual offences had risen by nearly 30% in High Town and 57% in High Town North.
A police spokesman said: "We believe this increase [in figures] relates to the public being more confident about reporting these problems since Operation Turtle was launched.
"We are one year into a five-year plan and are working closely with our partners to ensure that it is a success."
Shopkeeper Shazad Khadam said the authorities had "listened to the residents and accepted their concerns but more needs to be done".
"They are doing their best but at the end of the day it's not enough because it's not deterring the prostitutes or the kerb crawlers," he said.
"Maybe they need to look at putting more resources into the area so the residents of High Town can get a peaceful night's sleep and feel safe on their own streets."
Another resident, who did not wish to be named, said: "There should be zero tolerance for kerb crawlers.
"Outside my front door there are continuous cars just going round and round pointlessly and don't seem at all bothered about being arrested."