World war munitions found at Newport Pagnell house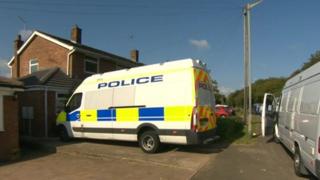 Munitions from World War One and World War Two have been found at a house in Newport Pagnell, the third property to be raided by police in three days.
A 37-year-old man was arrested on suspicion of stealing from heritage and protected sites after the munitions were found on Friday.
Police are establishing "the exact nature and quantities of items" found.
A property in St Albans, Hertfordshire, was raided on Wednesday and a house in Bicester, Oxfordshire, on Thursday.
Thames Valley Police said controlled explosions might be carried out on items found at the address in Little Linford Lane, Newport Pagnell.
Supt Jim O'Ryan said: "Experts with the relevant expertise are working together to deal with these items safely and any controlled explosions will pose no threat to the general public, who should not feel alarmed."
The arrested man is due to answer bail on 11 November.