London flooding causes train delays to East Anglia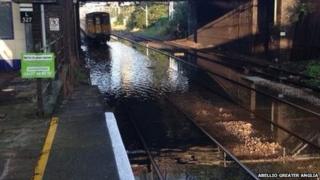 Rail passengers in East Anglia have faced lengthy delays after heavy rain led to flooding on tracks in east London.
The issue in Manor Park, which affected services from London to Norwich, Ipswich, Chelmsford and Colchester was reported at about 17:00 BST.
Network Rail engineers were called in to pump water off the tracks.
Rail operator Abellio Greater Anglia apologised to passengers for any inconvenience caused.
Passengers, who were told not to travel unless necessary, took to social media to vent their frustration.
Some complained of delays of up to two hours.
"Looking forward to seeing the natural disaster delaying trains at Manor Park," wrote Twitter user thedepartureboard.
"There better be dolphins jumping through hoops as we go past to warrant 90 minute delays," said Richard K Barnes.