Stevenage murder accused feared family had contract on his life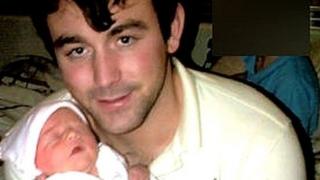 A traveller fled to Denmark in fear for his life believing feuding relatives had put a £100,000 price on his head.
John "Boy" Ward, 33, who denies murder, told St Albans Crown Court he was wrongly suspected of shooting dead his cousin's son in Hertfordshire.
The builder said he was in Hatfield with his pregnant wife and was phoning prostitutes at the time of the attack.
His cousin Thomas Ward, 21, was blasted in the chest at a Stevenage caravan site on the night of 23 April 2013.
John "Boy" Ward's mobile phone records revealed just after 23:30 BST that night, the first of two calls were made to First Call Escorts.
The builder, of Clarkson Court, Hatfield, pleads not guilty to murder and his wife Joeleen Ward, 22, denies assisting an offender.
Francis Ward, 36, from North Kensington in London and his sister Winifred, 47, also from London, both plead not guilty to assisting an offender.
Died within hour
The court has heard of a bitter family feud going back nearly 30 years.
James "Young Fox" Ward had been blamed by family members for the death of his cousin Micky Ward, who had died in a car crash when drunk behind the wheel.
Six years later James "Young Fox" Ward had shot dead Micky Ward's brother - James 'Bimbo' Ward.
The younger brother of the dead men, John "Boy" Ward, planned to kill his cousin's son, Thomas, the court heard.
Thomas, his wife Theresa and their five-day-old daughter Lily were woken by breaking glass on the night of the shooting.
He went to investigate and was fatally wounded dying at the Lister Hospital in Stevenage within an hour.
The trial continues.