Mia Tui bag company battles holiday giant TUI AG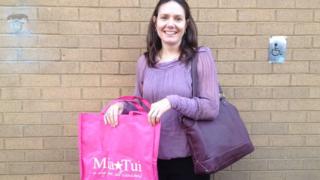 An international travel company has taken action against a businesswoman in a row over handbags.
Charlotte Jamme, from Milton Keynes, set up Mia Tui, which means "my bags" in Vietnamese, four years ago.
German company TUI AG, which owns UK subsidiary Thomson Holidays, said she must stop using the name because there was a "likelihood of confusion".
Mrs Jamme said to her knowledge "no-one has ever confused Mia Tui with TUI and in the UK, nothing's branded TUI".
Mrs Jamme, who used to live in Vietnam, sold her first 200 bags within six weeks of starting her company.
The Mia Tui logo was trademarked in 2010 but a lawyer recommended she also protected the text.
Solicitors for TUI asked her to "voluntarily remove" the name in July, which she refused to do.
The German company has now officially opposed the registration of the Mia Tui trademark at the UK Intellectual Property Office after an "attempt to reach an amicable solution failed".
'No-win situation'
Mrs Jamme has challenged their opposition and said when she set the company up she "hadn't heard of TUI".
"I am concerned about the future of my company. We cannot afford to rebrand, we cannot afford to fight it so I'm in a no-win situation."
TUI AG said it was "continuously monitoring its registered trademarks" and looked at trademark criteria not company size or other factors.
A spokesman said it also markets bags and backpacks under its trademark through its online shops.
"The only decisive factor is whether there is likelihood of confusion between the trademarks concerned," a statement said.
"In the case under consideration, TUI sees this fact as being applicable."