Roman settlement found on Aston Clinton new homes' site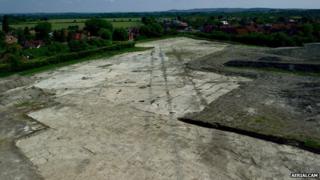 Archaeologists have uncovered the remains of a Roman settlement on a site earmarked for a new development.
A University of Leicester team excavated a nine-acre site in Aston Clinton, Buckinghamshire, as a condition of the planning permission for 48 homes.
As well as dwelling remains, it found the line of a Roman road and burials.
The development will go ahead with the site's story "preserved by record", the county council said.
Buckinghamshire County Council's historic environment team revealed the Stablebridge Road site's potential for archaeological remains in 2010, before the planning application was submitted.
It is within the Icknield Belt, a corridor known to have been favoured for settlement in prehistoric and later periods.
A Roman road, Akeman Street, also runs through the centre of Aston Clinton.
Iron Age origins
Early investigations in 2011 revealed a possible settlement of local or regional importance.
Developers Taylor Wimpey commissioned the team which discovered the remains of King Richard III under a Leicester car park to carry out a full investigation before it could start building.
The council's archaeological planning officer, Eliza Alqassar, said the excavations revealed an Iron Age-Romano-British settlement, human burials and a "substantial trackway" which appeared Roman because it was "straight and defined by ditches".
When viewed on maps of the county it appears to align with the projected course of the Lower Icknield Way and so may have origins in the Iron Age or earlier, she said.
A report on the archaeologists' findings will be published and discoveries from the site will be archived at Bucks County Museum.