Bedford Council gets £562K over Hendrick Meniru fraud case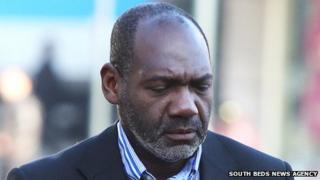 A council will receive more than £562,000 through the Proceeds of Crime Act following the prosecution of a fraudster involved in a junk mail scam.
Hendrick Meniru, from Bedford, was jailed for three years in 2013 by Luton Crown Court for fraud and unfair trading after a council investigation.
It found he persuaded customers to spend money based on bogus promises.
The money is set to be spent on local apprenticeships and "further legal and enforcement activities".
Bedford Borough Council Regulatory Services found Meniru operated a series of international scams, getting people to part with cash for supernatural help or help with winning competitions.
These included persuading elderly people to send $40 (£24) for a "certificate of blessing" from a personal wealth talisman.
'Financially compromised'
Others who thought they had won a £7,500 prize handed over £11.99, only to receive digestive biscuits.
Those duped by the scam also had to pay a $29 (£19) administration fee.
When trading standards raided his offices in Kimbolton Road, Bedford, in November 2010, they found letters of complaint.
At a trial in March 2013, a judge said Meniru, of Devon Road, preyed on the "vulnerable, gullible and financially compromised".
He was convicted of two charges of fraud and one of failing to comply with money laundering regulations and ordered to pay £3m plus costs of £200,000.
He had earlier been found guilty of two charges of unfair trading.
After a Proceeds of Crime Application (POCA), the council will receive the full costs plus £562,500 from the confiscation order.
It plans to set aside £450,000 to cover the employment costs for 15 places on its apprenticeship scheme over three years.
Dave Hodgson, the mayor of Bedford Borough Council, said: "We want to ensure that something positive can come out of this appalling, callous crime."