Luton Airport suspicious object 'had cables and power sources'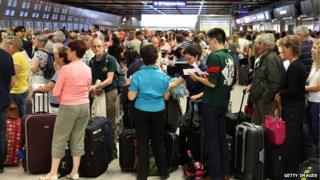 A suspicious object which led to the closure of London Luton Airport had "power sources" and a "large amount of organic mass", the airport has said.
More than 1,500 passengers were evacuated from the airport on Monday afternoon after the rectangular item was spotted during an X-ray.
The airport said the item was discovered in a bag which had been left unattended.
Bedfordshire Police said the item was destroyed. No arrests were made.
Forty six commercial flights were cancelled as a result of the closure, with a further 18 flights diverted.
Passengers were evacuated at about 14:00 BST, and the airport reopened more than three hours later.
In a statement, Luton Airport said: "Under questioning by the police, the passenger was unable to account for the item and confirmed the bag had previously been left unattended.
"The item... was effectively neutralised and taken away by Bedfordshire Police for further examination."
Both the airport and the police said they did not know what the object was.
Insp Dave Ford, of the airport policing unit, said: "The situation came about because of the combination of suspicious items in the hand luggage, an inadequate explanation and the fact the passenger who owned the bag also told officers he had left it unattended while he went elsewhere in the terminal."
Normal service has resumed at the airport, which is about 30 miles (40km) from central London.