Milton Keynes taxi driver rapist: Granting licence 'inexplicable'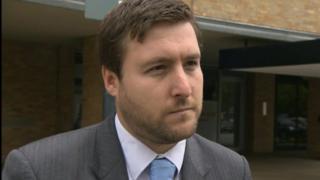 The Labour leader of Milton Keynes Council has called the decision to grant a taxi licence to a convicted rapist as "inexplicable".
Taxi licensing regulations are now to be improved as part of sweeping measures, leader Peter Marland said.
All 1,300 licensed drivers are to undergo police crime database checks, he told the council.
A committee was shown a document detailing sex crimes by Nadeem Ahmed Kiani and still granted him a licence.
The 44-year-old was imprisoned in 1994 for rape and serious sexual assault. His taxi licences have been revoked.
Milton Keynes mayor Subhan Shafiq, who had vouched for Kiani, has resigned from his post.
The document detailed how Kiani and a co-defendant picked up prostitutes, threatened them with weapons, then raped and sexually abused them.
"There will now be a phased improvement of licensing regulations," Mr Marland revealed to the council on Monday.
Over the next two months, the council will conduct criminal (Disclosure and Barring Service) checks on all drivers.
Those which raise concerns will be interviewed and the police brought in if necessary.
"The council made an inexplicable decision," Mr Marland said. "However, these councillors need to examine their consciences."
Without naming any of the councillors concerned, Mr Marland said there was no process for removing them if they had acted within the law.
"If you can't apologise, you can't even say sorry, it'll make it even more difficult to rebuild that trust in the future," he said.