Robert Barton cleared of Leighton Buzzard 'blackmail' death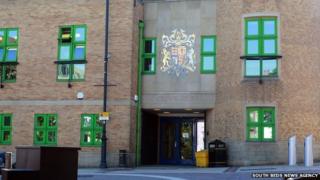 A man has been cleared of blackmailing a family friend who killed himself after he was told he was going to be exposed as a paedophile.
Robert Barton, 24, told Luton Crown Court he had been molested by Peter Hallams as a teenager and wanted to get proof to take to police.
He sent text messages to Mr Hallams, saying he would tell police about the alleged offence if he did not pay £500.
Mr Hallams, 62, killed himself on his house boat in Leighton Buzzard.
The court heard how Mr Barton, of Wyngates, Leighton Buzzard, sent text messages in May 2013, including: "Look mate I want £500 cash off you or I am going to the police", and: "You touched me up. I know you touched other people up as well."
'This will haunt you'
Mr Hallams complained to the police about Mr Barton and an officer visited him at his barge, which was moored on the Grand Union Canal.
A report was logged but Mr Hallams said he did not want any action taken.
Mr Hallams killed himself on his barge on 3 June.
He had sent Mr Barton a message that read: "You have done it now mate.
"Hope you are happy now. This will haunt you."
Prosecutor Neil King told the court Mr Hallams had known the Barton family for many years and Robert Barton had visited his boat a number of times.
Defence barrister Tim Clark told the jury that Barton "was not an angel".
He said he had taken drugs and had criminal convictions. He also had dyslexia and autism, the court was told.
"This prosecution was brought to defend the rights of paedophiles against their victims," Mr Clark said.
"My client believed he was getting evidence. It was not about getting money."
Mr Barton was awarded £55 costs at the court on Wednesday.