Child sex abuse arrests following dawn raids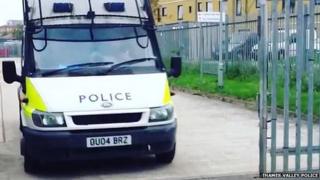 Ten men have been arrested during dawn raids by officers investigating child sexual exploitation dating back to 2005.
Thames Valley Police said 120 officers had raided 11 addresses from 07:00 BST.
The offences relate to two female victims in the Aylesbury area between 2005 and 2012 and police said the raids were prompted by information received "earlier this year".
The arrested men are aged between 28 and 45.
Five are of Pakistani origin, one is of Indian origin, one man is black Caribbean and another is of Afghan origin. The ethnicity of the last two men is not yet known.
Officers raided seven properties in Aylesbury, one in Milton Keynes, one in Buckingham, one in Chesham and one in Hayes, west London.
Seven of the arrested men are from Aylesbury, with one from Milton Keynes, one from Buckingham and one from Hayes.
Another man was arrested during the raids on suspicion of an immigration offence.
Thames Valley Police said the raids, carried out under the banner Operation Articulate, are not related to recent high profile sex cases in Oxford and Rotherham.
Acting Supt Olly Wright said it had "invested a considerable number of resources and expertise into this horrible type of crime".
"The police action taken today comes as a result of information given to the police earlier this year," he said.
"I understand today's events will have an impact on the community and people will be concerned about the nature of these arrests.
"If anyone has any concerns at all about offences relating to child sex exploitation, if they are a victim or know someone who may be, I urge them to contact Thames Valley Police."