Milton Keynes taxi driver rapist: David Cameron criticises 'bad decision'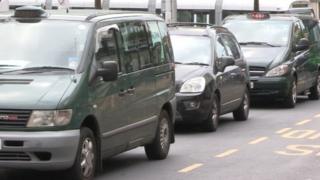 David Cameron has said it was a "bad decision" to allow a convicted rapist to become a taxi driver in Milton Keynes.
Members of a licensing committee saw a document detailing crimes committed by Nadeem Ahmed Kiani before they decided to grant him a licence in 2011.
The 44-year-old was imprisoned in 1994 for rape and serious sexual assault. His taxi licences have been revoked.
The prime minister said it was a "rather shocking story".
Mr Cameron said it was the government's responsibility to "set the ground rules" and advised local authorities to check whether drivers were "fit and proper persons".
"We advise they should do Criminal Record Bureau checks," he said.
"It's obvious in this case that the council followed the correct procedures but then made a bad decision.
"When that happens, the person making that decision should bear the consequences."
Milton Keynes mayor Subhan Shafiq, who had vouched for Kiani, resigned from his post last week.
The document detailed how Kiani and a co-defendant had picked up prostitutes in a vehicle, threatened them with weapons, then raped and sexually abused them.
Mr Shafiq had described Kiani as "a friend" and spoke of his "good current character and family circumstances".
Kiani was sentenced to eight years imprisonment at Middlesex Guildhall Crown Court in October 1994.
His name was also added to the sex offenders register.
'Jaw-dropping'
Milton Keynes Council leader Peter Marland said Mr Shafiq should examine his conscience over whether he could even continue as a councillor.
Meanwhile, a council investigation found seven of the area's taxi drivers had criminal convictions.
One, who was convicted of a sexual offence, has not had his licence taken away.
Conservative MP for Milton Keynes North, Mark Lancaster, described the news as "one of those absolute jaw-dropping moments".
"We have a duty to ensure the safety of our residents and being a taxi driver means you're in a confined space with an individual who could be vulnerable," he said.
"We need to toughen our approach to the licensing process.
"I accept people go to prison and serve their sentences, and after a period of rehabilitation, that conviction is spent.
"But there are some offences that are so severe, like rape or sexual assault, that mean you should never be allowed to become a taxi driver," he said.
A Department for Transport spokesperson said: "Taxis and private hire vehicles are licensed by local authorities in England and Wales.
"Local licensing authorities have a statutory duty to ensure that any person to whom they grant a driver's licence is a fit and proper person."