Isaac Stone murder accused Mohammed Hussain 'tried to stop fight'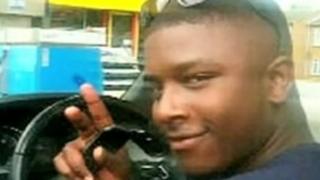 A man accused of fatally stabbing a rapper was trying to stop a street fight, a court has heard.
Mohammed Hussain, 22, is one of four Bedford men who deny murdering Isaac Stone in the town, in January.
Mr Stone was chased, trapped and stabbed several times and his friend Shajidur Rahman, 20, received severe facial injuries in the attack, Luton Crown Court heard.
The four defendants have also denied attempted murder.
Mr Hussain, 22, of Maitland Road; Rubel Miah, 19, and Javed Miah, 21, both of Costin Street; and Fahim Khan, 20, of Fenlake Road; also deny two counts of possessing an offensive weapon.
Luton Crown Court earlier heard the attack happened the day after a music video directed by Mr Stone - who performed under the name Dynamikk - was posted on YouTube.
'Upset someone'
Prosecutor Vincent Coughlin QC told the court that in the film, in which Mr Rahman and others also appeared, alcohol was sprayed over the name "Raz" that had been painted on a wall, which "upset someone".
Mr Rahman told the court on the day of the attack he was in a Corsa driven by Mr Stone, along with two other passengers, when they saw Rubel Miah and Fahim Khan in a white Range Rover.
When they got out of the car he was hit "five or six times" by Mr Khan with what he thought was a hammer, before he fled.
Mr Hussain told the court he played no part in the killing but had got in between Mr Stone and co-defendant Fahim Khan while trying to stop them fighting.
Defence barrister Amjad Malik asked him if he had "used your hands" to stab Mr Stone with a knife to which Mr Hussain replied "no".
The court has been told that Rubel Miah will not be giving evidence.
The trial continues.