Luton accountant Atif Ali shooting: Gun supplier jailed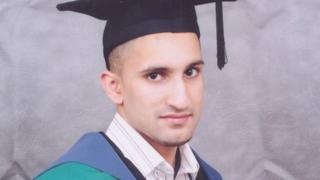 A man who supplied a sawn-off shotgun used to shoot an accountant in Luton has been jailed for 15 years.
Matthew McCafferty, 23, of Flitwick, boasted of the attack in a text message two hours after Atif Ali, then 27, was shot in the leg on 20 May last year.
He said in the message: "Bang bang," Luton Crown Court was told.
McCafferty must serve 10 years before parole is considered, for possessing a firearm with intent to endanger life and conspiracy to murder.
A news report of the shooting in Leicester Road, Luton, was discovered on McCafferty's Blackberry along with images of guns, cash and drugs.
The court was told the shooting was ordered by convicted drug dealer Shahzad Mahroof, 28.
Extended sentence
Mahroof was incensed that Mr Ali was to marry his girlfriend Nazeem Dadd. Her family did not consider Mahroof good enough.
He paid Bernard Pillay, a man convicted of causing grievous bodily harm to two police officers, to shoot Mr Ali with the gun supplied by McCafferty.
Prosecutor Stuart Trimmer QC said: "Atif Ali was engaged to marry Nazeem Dadd.
"Mahroof was intent on pursuing a relationship with her. The intended marriage with Atif Ali stood in the way."
Mahroof had made threats to Mr Ali and had shouted at him that he was a "dead man".
When the threats failed, arrangements were made for Mr Ali to be murdered.
Mahroof, of Selbourne Road, Luton and the gunman Pillay, 41, of Campion Close, Uxbridge were also convicted of conspiracy to murder.
They were both jail for life at an earlier hearing, with minimum terms of 15 years and 17 years, respectively.
The judge said the shooting was a "horrendous, brutal, callous act carried out on a man who had done nothing more than seek to marry Nazeem Dadd".