Milton Keynes and Luton beauty salons 'ignore guidelines' on eyebrow tinting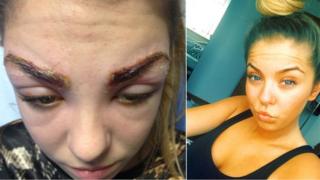 A third of beauty salons in parts of Bedfordshire and Buckinghamshire are failing to follow industry safety guidelines, it has emerged.
Salons should offer patch tests on customers wanting eyebrow tinting - though no law compels such a test.
BBC Inside Out East investigated after teenager Harleigh Kay, from Luton, suffered burns in January.
Of the 32 randomly selected salons, in the Milton Keynes and Luton areas, just 13 insisted on patch tests.
The British Association of Beauty and Cosmetology, which says salons should offer a patch test 24 hours before a treatment, has now called for a compulsory register of beauty therapists to prove they hold proper qualifications.
Harleigh, 17, went for an eyebrow wax and tint treatment but said the procedure was done incorrectly and she ended up in hospital after her throat and face swelled up.
"I actually thought at one point that I was not going to be here for much longer," she said. "Trying to breath and knowing how that feels is absolutely petrifying.
"I was crying, I was scared. I just didn't know what the final outcome was going to be."
Harleigh claims that The American Nail Bar in Luton had waxed her brows before tinting them, which is wrong as it opens the pores.
The salon did not do a patch test, which is when a sample of dye is put behind the customer's ear 24 hours before the procedure to check for allergies, she said.
The salon has admitted liability but compensation is yet to be agreed.
'Beautiful girl'
The salon told the BBC they have been doing eyebrow waxing and tinting for more than nine years and normally offered patch tests to new clients.
It said Harleigh was fine when she left the salon.
The salon said it was "very sorry" Harleigh thought she had received bad treatment but they "believe this not to be the case".
Leigh Adam, Harleigh's mother, said: "Harleigh's a beautiful girl. Back in January she looked like a monster and I was absolutely horrified.
"I kept thinking every day it would get better and better, but it got worse and worse.
During the BBC investigation, a number of salons only mentioned patch testing when prompted by being told it was a new procedure for the customer.
Of the 20 salons approached in Milton Keynes, 10 booked a treatment appointment without offering a patch test.
Four of the salons were secretly filmed to find out if they would offer a patch test at the actual appointment. Three of the four salons were still happy to go ahead.
The American Nail Bar in Luton was called and staff there did offer a patch test.
Carolyn Cross, chairman of the British Association of Beauty and Cosmetology (BABTAC) said: "It's a demanding, very lucrative industry and because it's not regulated you've got people out there training each other just to go ahead and do those treatments."
The Department for Business, Innovation and Skills said it had no plans for a mandatory register of beauty therapists.
The department advised consumers to go to their local trading standards team with problems.
Inside Out will be broadcast on Monday at 20:00 GMT on BBC One East, and afterwards on iPlayer.