Tim Cotterill Frogman sculptures stolen in Kings Langley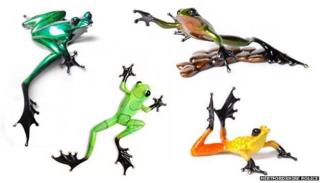 A collection of eight Frogman bronze figures valued at more than £3,000 have been stolen from a gallery in Hertfordshire, police said.
The sculptures, by artist Tim Cotterill, were stolen from Montague's Gallery on the High Street in Kings Langley about 10:30 BST on Friday.
Certificates are issued upon sale of a frog so the items "cannot be easily sold on", said PC Neil Hunt.
Police are appealing for witnesses to come forward.
PC Hunt said: "When purchasing these frogs the customer is given a certificate from Frogman with the name and edition number of the frog.
"The items cannot be easily sold on as people will not buy without these certificates.
"I would like to speak to anyone who witnessed the crime or has seen these items since they were stolen."