Milton Keynes mayor Subhan Shafiq resigns over taxi driver rapist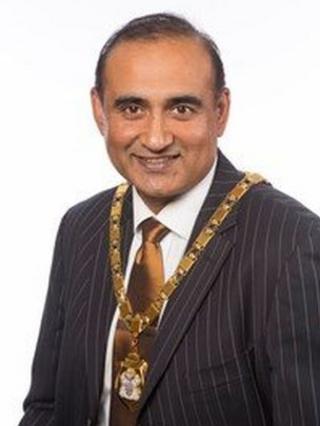 A mayor has resigned after a taxi driver he personally vouched for was found to have been convicted of rape.
Milton Keynes' mayor Subhan Shafiq had described his "friend", who had been convicted of four sexual assaults, as being of "good current character".
But last week, a member of the public raised concerns about the driver, and his licence was revoked.
Milton Keynes council said it had "taken rapid steps" to keep passengers safe.
The chair and vice-chair of the licensing committee, Gladstone McKenzie and Stuart Burke, have also stepped down.
'Significant errors'
The driver had been issued with a licence in September 2011, despite councillors knowing of his four convictions, for which he had served a "substantial" custodial sentence.
He had received a "very strong" character reference from Liberal Democrat Mr Shafiq, who became mayor in June.
The driver's convictions were discussed again in 2012 and his licence was temporarily suspended, but this ban was later "inexplicably" lifted, the council said.
Seven other drivers who give the council "cause for concern" have been identified as part of a detailed review of licence holders.
One has surrendered his licence and plates and the remaining six will be interviewed by the local authority.
Council leader Peter Marland said it was "highly regrettable that such significant errors" had been made, and that committee members had "exercised very poor judgement" in granting the driver a licence.
The council's chief executive, Carole Mills, said: "What has happened in the past is simply not acceptable.
"The process we have put in place for all future licence applications will not allow this situation to happen again.
"It's important to remember that the vast majority of Hackney Carriage and Private Hire drivers in Milton Keynes are decent, law-abiding and hardworking people.
"I'm hoping that drivers will work with us to secure public confidence in the days and weeks ahead."