Chase Care Home fined over Claire Hughes wardrobe death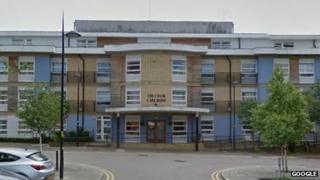 A care home company must pay £133,000 after a female resident with dementia was suffocated by an unsecure wardrobe that fell on her, a court has ruled.
Claire Hughes, 64, who had become "obsessed" with clothes, was found underneath the furniture at the Chase Care Home in Watford in 2011.
St Albans Crown Court heard an attempt to fix the wardrobe had been "botched".
Life Style Care PLC admitted safety failings and "expressed its regret and remorse".
The Borehamwood-based company, which operates 37 homes, pleaded guilty to failing to discharge its duty under the Health and Safety at Work Act 1974.
The court heard Mrs Hughes's wardrobe at the Printers Avenue home was locked with equipment provided by her husband Christopher, because she would put on layer after layer of clothes when she was left alone.
The wardrobe, which weighed 50kgs (110lbs) and contained clothes weighing 11kgs (24lbs), was on castors and had been secured to plasterboard, not to the concrete wall.
Mrs Hughes pulled one of the doors off, the wardrobe came down on top of her and she was unable to breathe.
Paramedics pronounced her dead at the scene.
'Not foreseen'
Dominic Kay, defending, said the failure had been an "oversight".
"It was not foreseen that she would use the force she did on the wardrobe. It is not a case of corner cutting," he said.
"The company expresses its regret and remorse to her family."
Judge John Plumstead acknowledged Mrs Hughes had been well cared for at the home but the wardrobe was "very poorly secured".
He fined the company £85,000 and ordered it to pay £48,000 costs.
"Steps should have been taken to ensure the wardrobe was fixed.... the attempt was botched," he said.
"The company failed in their duty to keep this lady safe."
All the home's wardrobes are now secured with longer screws and a timber baton fixed into the concrete wall, the court heard.