Physiotherapist Christopher Lewis 'bit client while growling'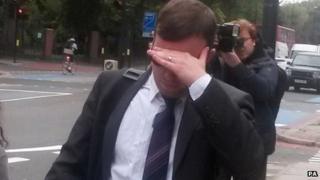 A physiotherapist bit a client's shoulder and growled "like a baby lion" for sexual gratification, a tribunal has heard.
Christopher Lewis also pressed his body against the woman and squashed her breasts, a Health and Care Professions Council (HCPC) panel was told.
The woman was having treatment for a fractured shoulder at the Verulam clinic in St Albans, Hertfordshire.
Mr Lewis said she may have "mistaken contact with facial hair for a bite".
Sophie Lister, representing the HCPC, told a conduct and competence committee Mr Lewis had spoken to his client about how physical injuries could affect sexual relationships.
"[He] started to work her right shoulder and slowly leaned across and squashed her breasts, still keeping eye contact and bit the skin of her left shoulder playfully," she said.
"It made her feel uncomfortable, vulnerable and shocked.
"We say the intention was for his sexual gratification and no other reason."
'Crossed physical boundaries'
The woman, who cannot be named, said she thought Lewis made "a bit of a growl ... like a baby lion" as he bit her, which was "no way a peck or a kiss".
"He had my skin in his teeth and shook his head in a similar way to a cat does," she said.
Mr Lewis said it was "completely false" to suggest he bit the woman or that his actions were sexually motivated, but admitted he had "not acted appropriately".
The length of his facial hair "probably feels quite prickly" and the woman may have perceived that as a bite, he told the panel.
He had squashed his client's breasts with his torso "in the context of a hug" because he wanted to show he could "sympathise with her and provide emotional support".
"I completely accept what I did was wrong .... it crossed physical boundaries," he said.
The incident is alleged to have happened when the woman visited the clinic on 13 May last year.
The hearing continues.