Woburn Safari Park celebrates rare bongo antelopes' birth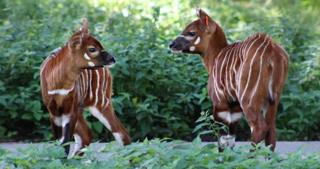 The birth of twin East African bongo antelopes is "fantastic news" for the "critically endangered" species, say conservationists.
The female calves, born at Woburn Safari Park, Bedfordshire, are seen as "vitally important" to the European Endangered Species Programme (EEP).
Experts believe there are fewer than 100 bongos now living in the wild.
A park spokesman said only two other sets of bongo twins born in captivity have ever survived in zoos worldwide.
The pair were born to nine-year-old Millie, in the reserve's 14-acre woodland habitat.
Keeper Chris Smart, said: "The arrival of these two new calves is not only fantastic news for the park, but also for the EEP as births of bongo calves last year were predominantly male.
"These calves are particularly beautiful. With so few left in the wild, they are extremely important for the conservation of the species."
Bongo antelope facts
The bongo is confined to isolated populations of forest on Mt. Kenya, the Mau and Eburu forests and the Aberdares
They live in dense tropical forest, elevated regions and bamboo forests
An adult bongo will measure between 110 to 130cm (43 to 51in) to the shoulder
They feed on grasses, roots and shrubs
Bongos are threatened by poaching and illegal trapping
Source: Woburn Safari Park
Born on 3 August, historically there have only been 15 sets of bongo twins born in captivity and only two sets have survived, said the safari park.
The two sets that survived were a male and female in 2003 at Busch Gardens in Florida and a male and female born in 2013 at White Oaks, also in Florida.