Police appeal for Fazan Ahmed hit-and-run driver to come forward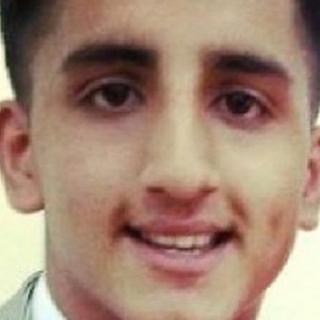 A hit-and-run driver who killed a 16-year-old boy "will know what he or she has done", police have said in an appeal for them to come forward.
Fazan Ahmed was struck by a blue car that failed to stop at the scene at 20:25 BST on Friday in Jupiter Drive, Hemel Hempstead in Hertfordshire.
His parents said the teenager's death had "torn his family apart."
A Hertfordshire Police spokesman urged the culprit to "do the right thing and hand yourself in".
Fazan Ahmed was struck by a car shortly after he left his aunt's birthday party to play football with his younger cousins.
He was crossing the road ahead of the four younger boys when the car, which has been described as an old-style Ford Focus, crashed into him.
He was taken to St Mary's Hospital in London where he died on Sunday evening.
The driver stopped a short distance away, but did not get out and then drove off, police said.
Mr Ahmed's mother Izzy Begum and father Mukhtar Ahmed were at Hertfordshire Police headquarters on Wednesday to appeal for the driver to come forward.
In a statement read by Insp George Holland they said: "This tragedy has not just torn his family apart, but his friends and the community as a whole.
"To the driver we say please come forward, look at the devastation you have caused this family, his friends and the community.
"Please come forward and help us deal with our loss."
Officers said the car's bumper, bonnet and possibly the windscreen are likely to have been damaged.
Det Insp Sam Khanna said the incident may have been an accident and at the moment the "only criminal side to it is that the driver has failed to stop".
"Until this person speaks to us we won't know the answers to that," he said.
"It looks better to talk to us rather than us come and find you. We will find you."
Anyone with any information or who witnessed the crash is asked to call the force.